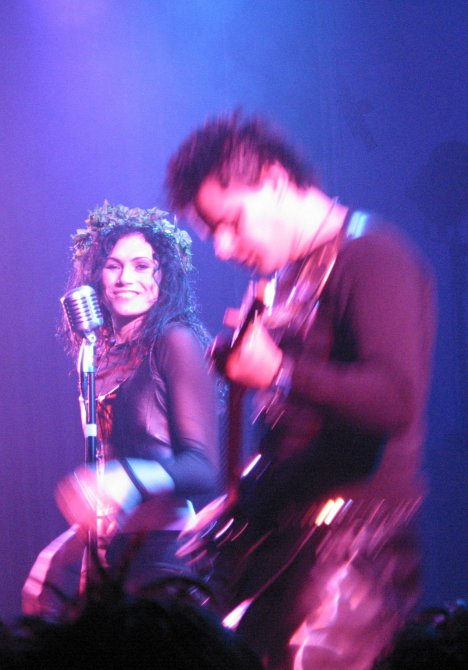 Inkubus Sukkubus
I can't say that I love every song Inkubus Sukkubus does, but the ones I do like, I really like. As slightly negative comments I might say that their music sounds a little dated, and one song very much sounds like another (conceptually and aurally), but as positive comments I would say that they are such fun to listen to. Their music is very life-affirming and celebratory. The lead singer has a wonderfully strong voice, and she's quite beautiful. The band members in general are also quite competent as musicians, in my opinion—especially for the genre they are in.

I am attaching two songs: "Belladonna & Aconite," and "Witch Hunt." - DG
Excerpt from inkubussukkubus.com:
Inkubus Sukkubus formed in the summer of 1989 when Tony McKormack, Candia Ridley and Adam Henderson met at college studying graphic design. They shared an interest in paganism, witchcraft and vampirism as well as making original music from an early age, and so the type of band that was to emerge from the joining of forces was, quite naturally, an expression of this. Initially the band was called Incubus Succubus. The original aim of the band was (as it still is today) to be the vehicle in which the celebration of the Pagan experience could be conveyed.
After being in existence for about a year the band released their first single, Beltaine, which received Radio 1 and regional airplay. However, shortly after this some members of the band drifted away leaving just Candia & Tony. The couple, however, continued in the form of Children of the Moon, a studio-based project in much the same vein as Incubus Succubus. Their material was very well received by the growing Pagan underground scene.
In December 1991 Bob, the original for Incubus Succubus. drummer, rejoined Candia & Tony, and Incubus Succubus was consequently reborn. The band played around Gloucestershire, Bristol and Oxford, and released all of the Children of the Moon material on one cassette album called Beltaine.
Lyrics for "Belladonna & Aconite"
(one of my favorites)
Belladonna and aconite
Give to me the gift of flight
Take me up, airborne in the night
In a dream, across the sky
A hundred - million miles high
Take me ever onwards in the night
Dark sisters join my night flight
See how far you can climb
Holt's with us on this bright night
Ride with him 'cross the sky
As a screaming horde
We cut the scape
The Devil's Apple exacerbates
To the sabbat on demon steed I ride
Across the astral plane we race
The universe my fingers trace
And I am lost forever in my mind
Dark sisters join my night flight
See how far you can climb
Holt's with us on this bright night
Ride with him 'cross the sky
Hemlock henbane aconite belladonna
Opium, Thornapple, Cinquefoil Mandragora
Official Videos:
Videos made by fans: