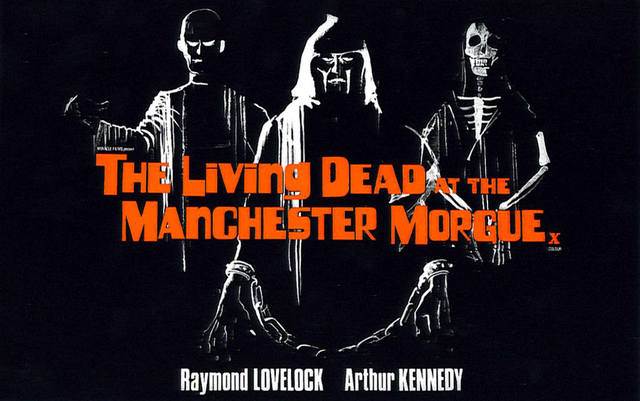 The Living Dead at Manchester Morgue (1974)

Although the influence of George Romero's Night of the Living Dead is undeniable, the film didn't produce anywhere near the number of followers as its sequel, Dawn of the Dead. One of the few films that followed in Night of the Living Dead's zombified footsteps is Spanish filmmaker Jorge Grau's The Living Dead at Manchester Morgue. Inspired by Romero's unrelenting piece of work, Grau headed to the U.K. in order to make a film that his producers hoped would be little more than a colorized version of Night of the Living Dead. What the producers got instead was a film that stands on its own merits and now ranks among the subgenre's finest due to an intelligent screenplay, sharp cinematography, and shocking gore effects.

Before going into a plot synopsis, it seems important to note that the film's title is a bit of a misnomer. None of the undead action takes place in the city of Manchester, which may cause a bit of confusion, but like many genre pictures Grau's film was released to theaters, and later video, under a plethora of monikers. The Living Dead at Manchester Morgue is but one of its many titles. According to the Internet Movie Database the film's original title is Non si deve profanare il sonno dei morti, which translates from Italian to English as Do Not Speak Ill of the Dead.

The story begins with George (Ray Lovelock), an antiques dealer from Manchester, becoming a traveling companion of a young woman named Edna (Cristina Galbo) who has damaged his motorbike at a service station. As the travelers set off for the peaceful confines of England's Lake District, a series of bizarre incidents lead them to realize they are trapped in the middle of a zombie outbreak. To make matters worse, a local police inspector (Arthur Kennedy) believes that George and Edna are the source of the incidents and begins a relentless persecution of the duo.

Read the rest of the review on Classic-Horror.com. This is such a postive review that I've added this to my "must see" list.