What is it causing in America?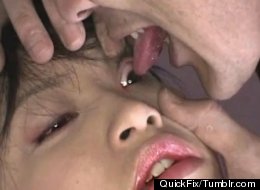 A dangerous fetish has eye experts seeing red and those who practice it seeing pink.
It is eyeball licking -- a strange erotic activity wherein participants actually put each other's tongues on each other's peepers.
Alternatively called "oculolinctus" or "worming," eyeball licking has few public advocates but they include Elektrika Energias, a 29-year-old environmental science student in the U.S. Virgin Islands.
"My boyfriend started licking my eyeballs years ago and I just loved it. I'm not with him anymore, but I still like to ask guys to lick my eyeballs," she told The Huffington Post. "I just love it because it turns me on, like sucking on my toes. It makes me feel all tingly."
It's also a very intimate act, she said. [continue, lol]