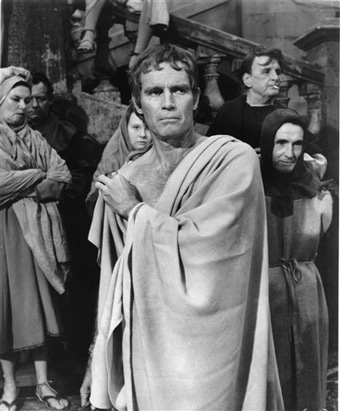 Julius Caesar (1970), directed by Stuart Burge
I watched this last weekend. It was not bad, certainly not as bad as some, but not nearly as good as the
Julius Caesar
with Marlon Brando. Charlton Heston was cast as Marc Antony, and I think he was much too old for the part. Heston is one of my least favorite persons in the world. I've just never liked him at all, and he has always come across as very full of himself. Plus, you saw way too much of his nearly naked body in this movie!
Jason Robards was just dreadful as Brutus though. I liked Robards in
Something Wicked This Way Comes
, which is a delightful little film, and he did well in that part. But I think he was miscast as Brutus. He was just way too stony-faced and reserved for Shakespeare.
John Gielgud was fine as Caesar, and of course he was in the 1953 version with Marlon Brando, in which he played Cassius.
If you've not seen
Julius Caesa
r, I'd recommend the Brando version, but if you just want to see this production, I don't think you'll be miserable watching it.
Here
is a 1950 version with Charlton Heston as Marc Antony as well, though I've not seen it.